On the first day of Investing in African Mining Indaba, keynote speeches by leading voices within the global mining industry highlighted the enhanced focus on environmental, social and governance (ESG) as a pivotal factor in unlocking investment into Africa's mining industry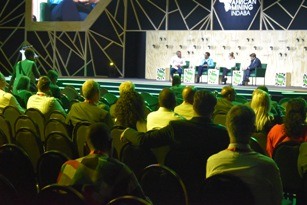 Delegates are being treated to a range of keynote speeches and panel sessions addressing key issues such as ESG at Mining Indaba. (Image source: Alain Charles Publishing at Mining Indaba)
Delegates were welcomed to the conference with key speeches from South African Minister of Energy & Mineral Resources, Gwede Mantashe, and Jose Fernandez, Under Secretary for Economic Growth, Energy & the Environment, US Department of State.
The Minister from South Africa began his speech by noting that 2022 had been a difficult year for the world and Africa, which negatively affected mining production and minerals sales. On top of this, international factors including soaring energy prices due to the geopolitical dynamics had posed the industry with more robust challenges around power supply alongside bottlenecks in railways and ports – it is estimated that load shedding cost the South African economy about one billion rands (approx US$56mn) a day and in November 2022 mining production contracted by 9%.
However, despite these problems, South Africa is beginning to rally. Mantashe explained that Transnet has accelerated the improvements of its rail network to support the return to service of locomotives to enable the export of bulk commodities. He welcomed the establishment of joint structures by Transnet and the Minerals Council South Africa (MCS) to ensure that all possible actions are being speedily taken to stabilise and improve South Africa's operational efficiencies at the ports.
He also paid tribute to Gold Fields, which was the first mining company to take advantage of the government's reforms around embedded generation licencing (which was increased from 1MW to 100MW before being ultimately removed). In doing so, they cushioned the impact of loadshedding by generating their own energy and were able to increase production by 10%, when most of the industry faced a downturn.
Alongside re-iterating governmental current government efforts to combatting loadshedding, Mantashe explained that South Africa has renewed its frontier status as an exploration destination.
"Our country's exploration landscape is increasingly becoming more fertile for the discovery of world class deposits of minerals of the future such as lithium, Rare Earth Minerals, copper, nickel as well as expansion of mineral systems of the manganese fields of high-grade quality. These minerals provide a solid base for industries of the future as well as the balanced energy security sought by the country, the region, and the world."
Indeed, the exploitation and supply of such minerals is sure to be a hot topic for Mining Indaba this year, as ESG is a key consideration currently gripping the continent's sector. Addressing this in South Africa, Mantashe pointed out South Africa's mining industry recorded 49 fatalities in 2022, the lowest number in the country's recorded history, and that there had been no mining disasters (which record five or more fatalities) in three years. This is all part of efforts to reach zero harm mining, and transform the public's view of mining.
It was under this theme the Fernandez began his speech, commenting that last year at Indaba there was increasing focus on the growing demand for critical minerals and the need for diversification here. He quoted the IEA which has predicted that demand for most minerals essential to the clean energy transition will increase by approximately 4-6 times and some exponentially. To meet this blossoming demand for critical minerals, Fernandez added, keeping ESG in view will be paramount.
"This is not altruistic. Sustainable growth requires sustainable projects. Investors demand this and consumers insist on it. Economic development to benefit a few is not sustainable."
Fernandez moved on to his work with the Minerals Security Partnership (MSP), an organisation created in response to the growing demand of critical minerals to ensure that they are being 'produced, processed and recycled in a manner that supports the ability of countries to realise the full economic development benefit of their geological endowments.'
Since its establishment in June 2022, Fernandez said that MSP and its partners have been working to create a framework which prioritises transparency and environmental protection and aims to include communities that are affected by mining work – there has been too many instances of profitable mines shut down due to community opposition, according to Fernandez. "In our meetings with the private sector we have found that companies will not engage with a race to the bottom. They won't do it as their shareholders won't allow it and their customers won't accept it. That is why we must care."
MSP, therefore, considers potential project partners that meet their guiding ESG principles around environmental stewardship, ethical acquisition, just labour conditions, company transparency and county benefit. "Our commitment is not just to extraction, we want to support countries build enabling environments throughout the supply chain, all while enhancing ESG standards."
Fernandez continued that in the last six months MSP has looked at more than 200 projects and whittled this down to further review. Fernandez remarked "To quote US President Joe Biden, 'We are all in on Africa'. We all have a part to play in the transition and how we can all benefit from it. I am proud to acknowledge progress with MSP but we are just getting started. We want to build partnerships to get deals through the door and engage more countries. Next year, when we return to Cape Town, lets make sure we have something to really celebrate."
Indeed, judging by the optimistic mood of the delegates at the CTICC, there will surely be much to celebrate over the coming days as Mining Indaba gets into full stride.