At the start of February, the mining community's attention was firmly fixed on Investing in African Mining Indaba as attendees, speakers and exhibitors alike converged under the key theme of 'Unlocking African Mining Investment: Stability, Security and Supply'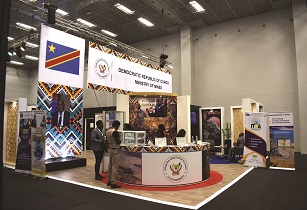 Country stands were dotted around the exhibition floor. (Image source: Alain Charles Publishing @ Mining Indaba)
After marking its appearance in May last year, attendees welcomed the return of Mining Indaba to its usual February spot, enjoying the warmer climate and the more relaxed Covid-19 travel restrictions.
Frans Baleni, chair of the advisory board at Investing in African Mining Indaba, welcomed attendees by noting that in the face of challenging times, "All of us have a role to play. As shareholders, investors, producers, political leaders, employees, women, youth and innovators gather here not just to network but to foster meaningful partnerships and make impactful investments. They gather here, fully committed to finding creative ways of addressing our challenges."
Other notable keynote speakers who took to the stage at the CTICC in Cape Town unfurled the challenges of facing the industry in the current geopolitical climate and identified the opportunities held within as well. Many of these, and indeed much of the wider discussions heard around the conference, focused on the energy transition (and the important role Africa's critical minerals could play here) and how ESG had become an essential consideration for every organisation operating on the continent.
This was a view put forward by Jose Fernandez, Under Secretary for Economic Growth, Energy & the Environment, US Department of State, who noted that to meet the blossoming demand for critical minerals keeping ESG in view will be paramount.
"This is not altruistic. Sustainable growth requires sustainable projects. Investors demand this and consumers insist on it. Economic development to benefit a few is not sustainable."
In the March issue of African Review, find a full report of the conference including summary of keynote speeches, updates on key announcements announced at the show, an overview of some of the most innovative exhibitors on the floor, and an exclusive interview with Jeannette McGill, VP and GM, metals & mining at AspenTech, who provided her thoughts on this year's conference and AspenTech's growing role within it.
Click here to go to the March issue and find the Mining Indaba review.