As choosing the right support vehicle designed to thrive in Africa's harsh underground mining environment can significantly increase productivity and reduce operational costs, at Investing in African Mining Indaba, Elphinstone will be promoting its mining support vehicles best suited to the African market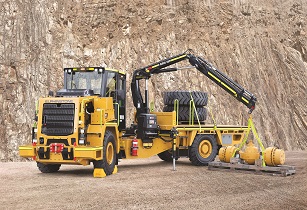 The Elphinstone WR810 Delivery. (Image source: Elphinstone)
The Elphinstone WR810 Delivery (payload 11,130 kg) and WR810 Flat Deck (payload 15,000 kg) are valuable additions to Elphinstone's ever-expanding underground support fleet. The highly configurable WR810 series also comprises a scissor lift, water cannon, agitator (6 cu/m), and fuel and lube truck.
"We're expanding the range of WR810 applications to meet the underground support equipment requirements of our customers, with several exciting additions in development," commented Elphinstone's sales and support representative for Africa, Kyle Allen. Available in both Tier 4 and Tier 3 engine arrangements, the WR810 Delivery and WR810 Flat Deck ensure parts, components, equipment, and maintenance personnel are transported safely and securely throughout the mine.
Having invested a wealth of resources into product development, Elphinstone has its eyes set on battery electric next.
"We have the Tier 3 and Tier 4 engine – the next step is to add battery electric to the WR810 model. We have a highly qualified team focused on battery electric while reviewing customer feedback and developing other products in parallel," said Tim Mitchell, global sales and marketing manager.
Both Mitchell and Allen will be attending Investing in African Mining Indaba 2023 and welcome attendees to visit their stand.