Bentley Systems, an infrastructure engineering software company, has announced the winners of the 2022 Going Digital Awards in Infrastructure which was held in London, UK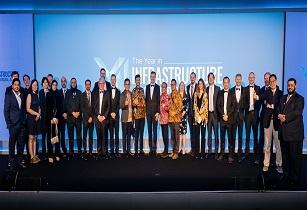 2022 Going Digital Awards in Infrastructure winners. (Image source: Bentley Systems)
The annual awards programme honours the extraordinary work of Bentley software users advancing infrastructure design, construction, and operations throughout the world. Finalists presented their projects at the 2022 Year in Infrastructure and Going Digital Awards event before global press and 11 independent jury panels.
These presentations illustrate how Bentley's users master project challenges and achieve set objectives by leveraging the latest digital advancements.
The jurors determined the winners of the 12 award categories from 36 finalists that were shortlisted from over nearly 300 nominations submitted by more than 180 organisations from 47 countries.
The winners of the 2022 Going Digital Awards in Infrastructure are:
• Bridge and Tunnels
Ferrovial Construction and Alamo Construction
IH35 Nex Central Station
• Construction
ACCIONA
Safely Removing Dangerous Level Crossings through Digital Construction
• Enterprise Engineering
Mott MacDonald
Smart Object Library for the Environment Agency
• Facilities, Campuses, and Cities
Sydney Airport
Maps@SYD
• Geoprofessional
Mott MacDonald
Driving Efficiency and Sustainability in Material Reuse through GeoBIM
• Grid
POWERCHINA Hubei
Full Lifecycle Digital Application in Wuhan Xudong 220kV Substation Project
• Process and Power Generation
OQ Upstream
OQ Asset Reliability Digitalisation with Purpose
• Rail and Transit
PT Wijaya Karya (Persero) Tbk
Integrated High Speed Rail & Station Jakarta – Bandung
• Roads and Highways
Waka Kotahi and FH/HEB JV, BECA Ltd.
Takitimu North Link
• Structural Engineering
WSP
Unity Place Delivered with Optimised Design by WSP Using Innovations from Bentley
• Surveying and Monitoring
Singapore Land Authority
SG Digital Twin Empowered by Mobile Mapping
• Water and Wastewater
Jacobs and PUB, Singapore's National Water Agency
Singapore's National Water Agency
Founders' Awards
Although there were no projects from the African continent featuring among the finalists, there was a notable Founders' Award which was presented to China Highway Engineering Consulting Corporation, China Communications Construction Company Uganda Branch and Uganda National Roads Authority (UNRA) for the design and build of the Kotido-Kaabong Road in Uganda.
The Founders' Honors are chosen individually by the Bentley founders from the hundreds of Going Digital Awards nominations received. This recognition is presented to a small number of exemplary projects, individuals, and organisations that particularly inspired Bentley in its mission of advancing the world's infrastructure, while sustaining both the global economy and the environment.
The project in northwest Uganda began when UNRA initiated the 68.5 km project dedicated to rural revitilisation and development of the tourism economy. Located in wild nature preserve, the project presented multiple challenges compounded by multidiscipline coordination amid a tight schedule. UNRA required the project team to submit digital BIM deliverables in accordance with British standards and, realising that their traditional design methods were insufficient, the team needed an integrated digital platform capable of whole process management.
Leveraging ProjectWise, iTwin, and Bentley's open modeling applications, they established a connected data environment, performing collaborative digital design and integrating multiple data formats, improving data sharing efficiencies by 50%.
Using ContextCapture to deliver a 3D reality model of the environmentally protected project space reduced survey time by 25 days and saved US$250,000. The digital solution provided 3D renderings of the project plan, improving visualisation and external communication efficiencies by 60%.
To learn more about the Going Digital Awards in Infrastructure, click here.