The Big 5 Construct Nigeria event, running from 27-29 September at the Landmark Centre in Lagos, will host public and private stakeholders as they come together to explore sustainable solutions for the growth of Nigeria's construction industry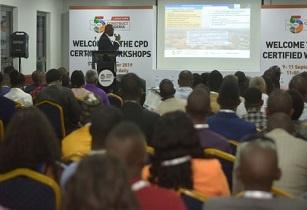 The Big 5 Construct Nigeria will host private and public stakeholders in the construction industry (Image Source: dmg events)
Organised by dmg events, the conference offers an opportunity for attendees to gain new insights, learn from top industry players, as well as connect to a wide range of construction stakeholders. The event's interactive platform, the Big 5 Construct Nigeria Industry Talks, will be hosted alongside the exhibition and is free to attend. The three-day programme will give visitors the chance to attend key notes and panel discussions led by senior experts that focus on three core pillars: Technology, Project Management, and Architect and Design.
The Chartered Institute of Building (CIOB), a large professional body for construction management and leadership, will present a number of masterclasses focusing on sustainable project management implementation, the role of urban mobility and street re-design in building sustainable African cities and building sustainable credibility.
Additional masterclasses, feature keynotes and panel discussions will be held by both local and international partner associations including the Occupational Safety and Health Association UK; the Nigerian Institute of Quantity Surveyors; BIM Africa; the Lagos Chamber of Commerce and Industry; and the Project Management Institute of Nigeria.
Ben Greenish, senior vice president of dmg events, said, "Continuing professional development is a core value of the Big 5 Construct Nigeria. We take pride in delivering exceptional content at the Industry Talks and are proud to work in collaboration with local and international associations to provide impactful content for our event attendees."