African Energy Week (AEW), has announced that Puot Kang Chol, Minister of Petroleum for the Republic of South Sudan will be attending and participating at AEW 2022, taking place from 18 - 21 October 2022 in Cape Town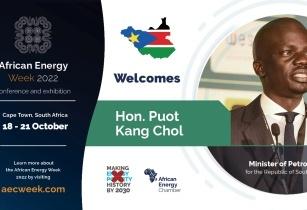 At AEW 2022, South Sudan's Minister of Petroleum will present opportunities for investors and for oil and gas companies within the country's market. (Image source: African Energy Chamber)
The Minister brings a wealth of experience which both emerging and leading oil and gas producers across the continent can replicate to boost production and to utilise their hydrocarbons resources in making energy poverty history in Africa by 2030.
In June 2021, Puot Kang Chol led the South Sudanese Ministry of Petroleum in launching the country's first oil licensing round in which exploration licences were awarded for Blocks A2, A5, B1, B4 and D2 as part of efforts by the government to explore the almost 90% of oil and gas reserves that remain untapped. During the first round of three, an initial five blocks were placed on offer in the Muglad Basin with the potential to add up to 100,000 barrels of oil per day (bpd). The licensing round forms part of an effort by Hon. Puot Kang Chol to boost the country's oil output from between 180,000 and 200,000 bpd in late 2020 and early 2021, to 300,000 bpd by 2023 and then to between 350,000 and 400,000 bpd by 2025.
Recent collaborations between South Sudan's Ministry of Petroleum and top international and regional oil companies such as the China National Petroleum Corporation, the Nigerian National Petroleum Corporation, Petronas, the Nile Petroleum Corporation and the Oil and Natural Gas Corporation have led to significant investments being made in blocks such as blocks three, seven, one, two, four and 5A. As a result, South Sudan has managed to expand and stabilise its production capacity in recent years. However, a lack of oil processing and transportation infrastructure continue to disrupt the growth of South Sudan's oil sector as well as the full monetisation of oil resources for economic development. With revenue from the oil sector accounting for almost 80% of the country's gross domestic profit, according to Sustainable Energy For All, improving the build-up of infrastructure such as transportation pipelines and refineries could help boost South Sudan's economy. With this in plan, the Ministry or Petroleum seeks to attract more foreign investments to boost its infrastructure development.
Puot Kang Chol will lead panel discussions and participate in ministerial forums focused on how African hydrocarbon producing countries such as South Sudan can attract funding to boost the oil and gas market and how hydrocarbons can be utilised to address energy access and ensure energy independence across the continent.