From the 9-11 May Securex West Africa will welcome back the security, fire, safety and facilities management industry to the Landmark Centre, Lagos in Nigeria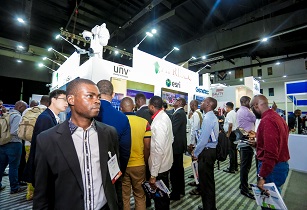 The three days will host more than 70 industry thought leaders. (Image source: Afrocet Montgomery)
More than 3,000 industry stakeholders are expected to come together, view products and solutions from more than 100 industry leading brands, including Acronis, Dahua, G4S, Halogen Security, Net Global Systems, Powerec Global Systems, Virdi Nigeria and ZK Teco.
The three days will also host more than 70 industry thought leaders across two stages. Sessions will explore securing critical national infrastructure, aviation safety, kidnap protocols, cloud and cyber security.
Also taking place will be sessions run in collaboration with industry partners that include an afternoon of presentations and panel sessions put together by Bulwark Intelligence focusing on building a resilient security programme, best practices for managing security risks and emerging national security threats in West Africa. Speakers on these sessions include top security executives from Coca Cola, Nestle, VIISAUS, Transworld Security Systems, FAAN, NCAA, Heirsholding Oil & Gas Ltd, Zoracom and many others.
Alongside these sessions for security, the OSHA Association Nigeria Region will once again be delivering a packed day of presentations and panels focusing on achieving fire safety through best practice, training and understanding that will culminate in this year's Fire Safety Merit Awards.
On Wednesday, the Institute of Workplace and Facilities Management (IWFM) Nigeria Chapter will bring the facilities management industry to the forefront of the audience's attention with sessions covering energy in residential communities, changing the narrative for the female professional in FM, governance in the sector and raising cleaning standards across Nigeria. The sessions will boast senior executives from Wembod Estates, VENCO, UPDC Facilities Management Ltd, IFS Group, Oracle and more.
George Pearson, regional director for Afrocet Montgomery, said, "With the exhibition holding next week, we're really excited with how it's all come together and want to thank our various partners who have supported in putting together the conference programme and identifying key trends and speakers that our community want to hear from. We're also really pleased with the response from the exhibitors in what is a difficult period for all in the sector. And I want to extend my personal invitation to all those in the security, fire, safety and facilities industries and I look forward to seeing them next week".
To find out more about the exhibition, visit the website at: https://www.securexwestafrica.com/visit/register-2023