From 22-24 November 2022 at the Landmark Centre, Lagos, Propak West Africa is once again set to be the primary exhibition for the packaging, plastics, printing and processing industries to showcase their products and connect with their industry peers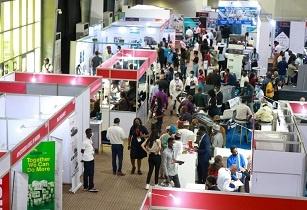 This year's event is already set to beat the record numbers of attendees and brands set in 2019. (Image source: Afrocet Montgomery)
Afrocet Montgomery, the organisers of the event, expects to welcome 5,000 visitors and more than 200 brands to the exhibition venue. Leading companies from the region and around the globe will be in attendance, demonstrating the latest in industry innovation and sharing experiences with those in attendance to collectively raise the profile of the manufacturing sector in West Africa.
In 2021, the exhibition took place on the back of the pandemic but this year's event is already set to beat the record numbers of attendees and brands set in 2019. With exhibitors such as Afra Technical Concept, Beaumont Industrial Services, Epson, Haitian Plastics Machinery Group, Ishida Europe, Ok Plast, Neofyton, Rotocon, Serac, Skysat Technologies, TetraPak West Africa and Windmoeller & Holscher, space is filling up fast.
George Pearson, regional director of Afrocet Montgomery, commented, "We're delighted with the speed the exhibition has bounced back to it's pre pandemic size and trajectory and this is down to the confidence our exhibitors and stakeholders have in the brand, which is great to see. We've got lots of new features for this year's event and we're looking forward to announcing them over the coming weeks as we get closer to the opening day."
Propak West Africa will also boast a fresh-look conference programme which will run alongside the exhibition. This will take a closer look at the verticals that make up the exhibitor profiles as well as green technologies, Intra-Africa trade, innovative industry developments and capital finance for machinery.
Pearson stated, "These sessions will help to attract the leading minds in the sector who want to understand how to take their businesses to the next level and share their experiences over the last few years. On another note, we're also excited to have a number of new companies showcasing their machines live on the exhibition floor so visitors can gain a true understanding of how they'll operate on their own factory floors."
To find out more information on how to get involved click here.