At the recently concluded COP27, Javier Cavada, president and CEO of Europe, Middle East and Africa at Mitsubishi Power, underscored the potential of the MENA region to leapfrog developed nations in hydrogen production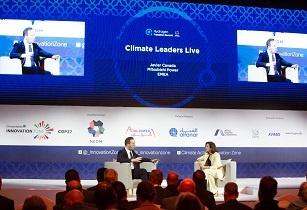 Fireside chat with Javier Cavada at COP27 Hydrogen Transition Summit. (Image source: Mitsubishi Power)
Mitsubishi Power, a power solutions brand of Mitsubishi Heavy Industries, Ltd. (MHI), showcased its technology advances in decarbonisation and their application to accelerate the energy transition at the conference. At the Hydrogen Transition Summit, one of Climate Action's key events this year, Mitsubishi Power underscored the opportunity of hydrogen as a main enabler of energy transition, and as an integral constituent of a future decarbonised energy system.
Speaking at the opening session, Cavada commented on "The MENA region's potential to become a major exporter of hydrogen, with the availability of abundant and low-cost renewables, existing export infrastructure, as well as financing resources.
"While hydrogen will continue to play an essential role in decarbonisation, its widespread deployment will require unprecedented collaboration with both existing and new technologies, industry partners, policymakers, and NGOs."
MHI is committed to achieve carbon neutrality across its operations by 2040, and also adopting a new goal to achieve Net Zero emissions through its entire value chain by the same year. In line with this ambition, Mitsubishi Power continues to develop energy solutions and processes that enable hydrogen's transition from industrial use to being the clean fuel of choice.
"With our recent projects that have demonstrated the large-scale commercial validation of our technology and decades-long expertise in this field, we are committed to support our customers across the region accelerate their energy transition with affordable and reliable solutions. This is going to be essential to demonstrating how hydrogen can competitively fulfil clean energy expectations and bring us one step closer towards a carbon neutral society," added Cavada.
One recent example is the full turnkey contract Mitsubishi Power signed with leading Egyptian oil & gas company, Alexandria National Refining & Petrochemicals Company (ANRPC), to provide advanced hydrogen fuel conversion technology solutions, supporting the company to achieve its decarbonisation goals. The solution will be installed at the ARNPC refinery plant in Alexandria, which provides 30% of Egypt's gasoline supply for domestic consumption.
Under the terms of the contract, Mitsubishi Power is responsible for the design, engineering, procurement, construction, and commissioning of fuel conversion solutions for the existing 100 ton/hour boiler, enabling it to fire up to 100% hydrogen by the end of 2023. This includes the installation of state-of-the-art hydrogen burner technology and advanced control solution to ensure efficient and safe operations.