The MENA Construction 4.0 Forum is arriving in Dubai from 24-25 May to highlight how embracing the Fourth Industrial Revolution is paramount for the advancement of the construction industry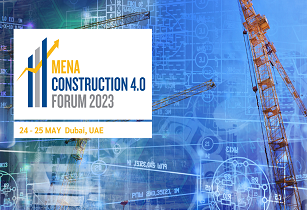 Across the two days, more than 30 expert speakers will explore key topics around digitalisation in construction. (Image source: ACP)
Built on a foundation of more than 200 hours of primary research, the conference will examine why the digitalisation of the Architecture, Engineering & Construction (AEC) industry is essential to mitigating business-critical challenges. More than 150 delegates will be in attendance and will help to unveil how revolutionising and integrating new technologies can assist the AEC industry in optimising productivity to drive best quality results with minimal investment while, at the same time, encouraging the development of more sustainable infrastructure.
Across the two days, more than 30 expert speakers will explore key topics around digitalisation in construction including exclusive sessions on The Industrial Revolution 4.0; Evolution in the Digital World of Construction; Effective & Efficient Project Delivery; Selecting Optimal Technology for AEC; and Sustainable Construction Technologies.
Representatives from a range of companies spanning the entire industry will be in attendance, including experts from DAMAC properties, Energy Institute, KEO Consultants, the Ministry of Energy and Infrastructure, Azizi Developments, Red Sea Global, Select Group, FAM Holdings, and many more.
"The city of the not-too-distant future will allow us all to monitor our own energy usage, recommend the best times to travel via the most economical, efficient and sustainable means, and help us make decisions that benefit all. A smart city is a truly connected city, but to achieve that connectivity, we must encourage everyone to work together – we, the people, together with industry, government, city planners and technology providers. That point is on the horizon, and I, for one, welcome such innovation," commented Ali Hussain Sajwani, managing director - operations & technology, DAMAC Properties.
Attendees will also benefit from more than 10 case studies and 15 construction technology demonstrations to showcase the equipment and services available to deliver the projects of tomorrow. They will also have the chance to participate in interactive lunch and learn sessions and onsite meetings with target clients.
To join the business-critical discussions, register for the forum here: https://construction-forums.com/mena/register
Or contact:
Vinay Nair
Head of Sales
Alain Charles Publishing
+971 4 448 9260
vinay.nair@alaincharles.com