Frontier Energy Network, the energy industry's leading forum for collaboration and deal making, has provided a first glimpse of the stellar line up at its renowned Africa Energies Summit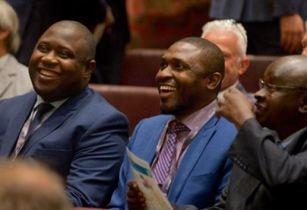 Hon Fafa Sanyang, minister of energy and petroleum, Republic of The Gambia at the Africa Energies Summit in London. (Image source: Frontier)
Set to take place in London and online from 17-19 May, the Summit's first-look agenda is headlined by no less than ten African governments, supported by eight ministries and a host of leading players in the African and international energy markets, from Africa Oil Corporation and ReconAfrica, to Perenco and Shell.
The three-day agenda – which includes presentations from some of Africa's most nimble and respected energy explorers and producers, senior round-table discussions and the opportunity to network with those most active in the region's industry – lists 50+ speakers so far, with more speakers and governments set to be announced in the coming weeks.
Gayle Meikle, Frontier Energy Network CEO, commented, "Energy security is the biggest challenge facing the African Continent and it is more important than ever for African leaders and energy companies to engage to build a path of prosperity through energy for Africa."
Believing that the energy industry has a responsibility to give back to the communities in which it operates, the Summit will support Gogo Olive, a Zimbabwean charity working to change the lives of women and children through employment, and the Tikki Hywood Foundation, active in West and southern Africa, which works to protect the highly endangered pangolin.
Some of the confirmed speakers 2022 include:
• Hon. Dr Matthew Opoku Prempeh, Minister for Energy, Republic of Ghana
• Hon. Fafa Sanyang, Minister of Energy and Petroleum, Republic of The Gambia
• Hon. Minister Soda, Minister of Mines and Power Development, Republic of Zimbabwe
• Paulino Jeronimo, president, ANPG
• Saifuah Mai Gray, president/CEO, National Oil Company of Liberia
• Mohamed Hashi Arabey Abdi, Director General, Ministry of Petroleum & Mineral Resources, Federal Republic of Somalia
• Augusto Macuvele, executive board member – Exploration, Instituto Nacional De Petroleo, Mozambique.