Ahead of the start of EMO Hannover, a leading trade fair for production technology, the EMO World Tour 2023 arrived in South Africa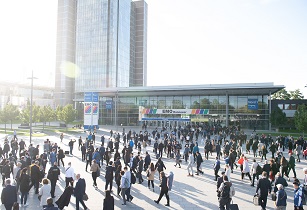 A total of 1,500 exhibitors from around 43 countries have signed up for the conference so far. (Image source: Deutsche Messe)
EMO Hannover will be held in Hannover, Germany, from 18-23 September 2023. In advance of its opening, the EMO World Tour 2023 is bringing the world's leading fair for production technology to the rest of the world and is visiting around 40 countries across the globe either digitally or live. This initiative aims to introduce the concept of the show, present news from the industry and let exhibitors and visitors from different regions have their say.
"We very strongly believe that this leading trade fair can make an important contribution to the development of industrial production in South Africa," commented Wilfried Schäfer, executive director of EMO organiser VDW (German Machine Tool Builders' Association) in Germany, at the press conference.
"Those in positions of responsibility in industry, government and investment institutions in South Africa can obtain all the information they need at EMO Hannover on the technologies suitable for implementing planned projects."
The last EMO Hannover was held in 2019, with 243 experts attending from South Africa. The event attracted around 116,700 visitors from 149 countries overall with 51% of these coming from outside Germany.
'Innovative Manufacturing' is the new claim of the 2023 conference. With production technology as both an enabler and a driver of progress in industrial production, it is an indispensable factor in ensuring that industry remains up to date and competitive. Productivity, quality and flexibility head the list of requirements and digitalisation is providing a further boost to all three of these goals. Therefore, 'Innovative Manufacturing' has been chosen as the clarion call to customers to invest in new technologies and motivate manufacturers to present their latest innovations and solutions.
In addition, the organisers have noted how production technology is itself currently undergoing a transformation, yet it is also part of the solution. EMO Hannover 2023 will therefore address this in its Future Insights. These include:
• Future of Business: focusing on new markets, new business models and new opportunities as well as the potential offered by adopting a culture of innovation;
• Future of Connectivity: concentrates on the trends surrounding Indus-try 4.0, the Industrial Internet of Things (IIoT), digital business models, predictive maintenance, machine learning, connectivity, interoperability and artificial intelligence, augmented and virtual reality applications.
• Future of Sustainability in Production: addresses the importance of integrating sustainability early on when planning investments – one of the most pressing issues in the modern age.
A total of 1,500 exhibitors from around 43 countries have signed up for the conference so far, including many companies from South Africa's top supplier countries such as China, Italy, Switzerland, South Korea and Germany. However, the event will also feature a great many interesting technical developments that could be significant for securing companies' future success.
"EMO Hannover is exactly the right platform for comparing and evaluating them directly and, if desired, also for finding suitable partners. This is because it is broadly positioned and showcases the entire global range," concluded Schäfer.