Ecomondo, the international green economy exhibition organised by Italian Exhibition Group (IEG), has announced that it will be a partner of the Mediterranean Pavilion at the 2022 United Nations Climate Change Conference (COP27)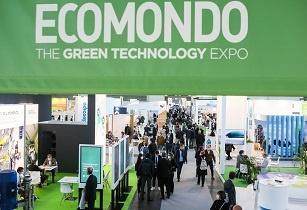 Ecomondo brings together all sectors of the circular economy on a single platform. (Image source: Ecomondo)
The international event will be held from 6-18 November in Sharm el-Sheikh, Egypt, during which time Ecomondo will celebrate its 25th year as it runs from 8-11 November in Rimini Expo Centre, Italy.
The Mediterranean Pavilion will be a specific space for all public and private, scientific and academic, technical, political, civil society, financial and business actors actively engaged in tackling the climate crisis in the Mediterranean area. The aim is to focus attention on a region that has been neglected during climate negotiations. At the same time, the Mediterranean is also a hub of emerging regenerative economy solutions, both in terms of public policies and private initiatives, and it is on this front that the Mediterranean Pavilion intends to bring together best practices that can serve as a model for boosting similar efforts on a global scale.
This, of course, is closely in line with the themes of Ecomondo which has served as the pioneering event on the circular economy, containment of climate-changing emissions and sustainable development.
While one of the primary focuses of Ecomondo is on climate concerns in the Mediterranean, the conference and Key Energy 2022 will also concentrate on the environmental challenges and opportunities in North African and sub-Saharan countries.
IEG´s CEO, Corrado Peraboni, commented, "The most comprehensive exhibition in the field of circular and renewable energy, a platform for business and research will, in fact, also become a veritable powerhouse for networking and exchanging opportunities between Europe and Africa."
A range of conferences and seminars will feature international, national and local institutions, public and private companies and the scientific world. African embassies, governments and institutions will be meeting at the 2nd edition of ´Africa Green Growth´: under discussion, growth opportunities in the fields of ´Green Hydrogen´ and ´Water Energy and Food Nexus´ with a focus on the circular economy and youth entrepreneurship in Africa´s ever-increasing integration into world economy circuits.
Other areas of interest to the African continent will include discussions on new energies, drought and alternative water sources, and much more.
Find out more about Ecomondo at the website here.