The 2022 United Nations Climate Change Conference (COP27) has officially begun in Sharm El-Sheikh, Egypt, as more than 40,000 attendees look to tackle the key challenges facing the environment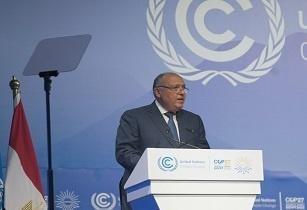 Sameh Shoukry noted that as COP27 is being held on African soil, the event must consider the needs of developing countries. (Image source: COP27)
Running until 18 November, around 100 heads of states and governments will rub shoulders with thousands of delegates, members of the civil society, media representatives and other relevant stakeholders.
Speaking ahead of the conference, ambassador Wael Aboulmagd, special representative to the COP27 president, commented, "The Egyptian Presidency team has worked tirelessly to create an enabling environment that is conducive to successful negotiations. As the hosts of the COP, we are keen on bringing representative of nations and stakeholders from across the world and to provide the required momentum to address the required actions for urgent and at-scale implementation of climate commitments and pledges."
Formally elected as the COP27 president by the parties during the opening plenary, Egypt Foreign Minister, Sameh Shoukry, called on countries to show faith in multilateralism over the next two weeks as they negotiate to deliver on the goals of the Climate Convention and the Paris Agreement.
He said, "It comes as no surprise to anyone that the COP is being held this year in a world which is witnessing political turmoil that cast a long shadow on all our nations and has resulted in energy and food crises. However, these challenges should be no reason for delaying our collective effort to fight climate change. It is inherent on us all in Sharm El-Sheikh to demonstrate our recognition of the magnitude of the challenges we face and our steadfast resolve to overcome it."
The COP27 president also added that with the event hosted in Africa, delegates must pay special attention to the needs of developing countries and ensure climate justice through availing the appropriate finance and other means of implementations, as countries that are the least responsible for emissions are often the most affected by climate change.