At CONEXPO-CON/AGG, running in Las Vegas, USA, taking place from 14-18 March, Cummins has reaffirmed the company's commitment to reach net-zero emissions from its products and business by 2050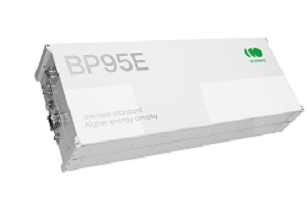 The BP95E has a long life and fast charging times. (Image source: Cummins)
The company has suggested this will be achieved by focusing on the areas of advancing internal combustion engine technology to reduce carbon emissions and building the broadest combination of net-zero emission technologies dedicated to the commercial vehicle industry. The latter includes battery electric and fuel cell electric powertrain solutions alongside electrolysers for green hydrogen production.
Eric Neal, executive director of Cummins off-highway business, explained, "Our aim is to support our customers on their path to zero carbon emissions. This means meeting them wherever they are on their journey. We are leading the energy transition by providing our customers with the right technology and utilising our deep understanding of their needs and applications.
On display at the exhibition in Las Vegas is Cummins' next-generation advanced 15-litre diesel platform, showcasing a practical route to emissions reduction and decarbonisation for off-highway applications. It sits as part of the fuel agnostic product display, showing a common architecture optimised for a variety of low and no-carbon fuels including biodiesel and HVO, renewable natural gas, and hydrogen. All engines derive from the same base, providing a high degree of parts commonality.
Amy Davis, president of Accelera, the new Cummins brand for its power business segment, remarked, "We understand that no single solution or path to zero will work for all power needs, which is why we are developing the broadest combination of zero emission technologies: fuel cells, battery systems and fuel storage technologies."
Also on show is the latest NMC battery, the BP95E, which has a long life and fast charging times. It is suitable for compact equipment, particularly those that work in urban environments and its modular design means it can be scaled to fit a number of installations based on the changing energy and packaging requirements.
As a result of Cummins' acquisition of Meritor last year, Accelera's product portfolio was broadened to include complementary ePowertrain products and EV powertrain integration capabilities. The Electric Central Drive Unit (eCDU), for example, is a remote-mount electric powertrain designed for space limited off-highway applications. Its innovative architecture enables increased vehicle design flexibility with the ability to be located as needed. It helps reduce investment in vehicle architecture changes such as hydraulic brakes and driveline parking brakes.
"Because of our global service, technical expertise, and ability to optimise performance of applications, Accelera is in a unique position to help our end customers succeed during the energy transition. Working together with customer partners, we are rapidly evolving our zero-emissions technology to meet the diverse needs of our customers and further our shared goals of lessening our impact on the planet," concluded Davis.