Africa Oil Week (AOW), which is arriving in Cape Town from 3-7 October, has released its Pan-African Female Leaders in Energy Power List 2022 in partnership with Lean In Equity & Sustainability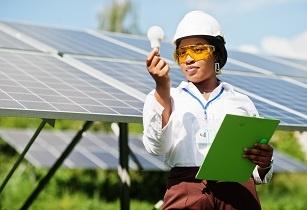 The list highlights female energy executives who are inspiring the next generation of African girls and female executives. (Image source: Adobe Stock)
The list highlights Africa's 50 most inspirational female energy executives who act as visible role models in the industry to encourage the next generation of African girls and female executives.
AOW is committed to driving diversity and inclusion awareness into the sector and launched the power list in line with its mission to create a more gender-balanced sector by giving these leading women the platform to share their experiences and stories with other energy leaders.
"It is essential to us that there is a greater representation of genders within the industry, not only because there are so many fantastic female leaders out there, but also to ensure that the voices of women and children are heard around the decision-making tables. We are extremely proud to create the Energy Power List 2022 with Lean In Equity & Sustainability, and we look forward to hearing the work and experiences of these 50 executive leaders in Cape Town at Africa Oil Week 2022," said Paul Sinclair, vice president, Energy, Africa Oil Week & Green Energy Africa Summit.
Find out more about AOW at their website here.