The 19th edition of the African Utility Week and POWERGEN Africa 2019 gathered a wide range of power, water and gas industry experts in Cape Town, South Africa from 14-16 May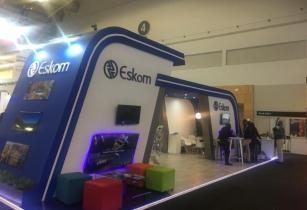 The capture and storage of carbon along with other cleaner coal technologies remain critical considerations to help South Africa continue using its coal resources in an environmentally responsible way. (Image source: African Utility Week)
Major highlights from the conference:
Keynote address by Minister Jeff Radebe
South Africa's Energy Minister Jeff Radebe delivered the opening keynote address at the conference. Minister Radebe stressed that the capture and storage of carbon along with other cleaner coal technologies remain critical considerations to help South Africa continue using its coal resources in an environmentally responsible way. "The timing of the transition to a low carbon economy, in line with our accession to the Paris Agreement, must be in a manner that is not insensitive to the potential impacts on jobs and local economies."
Africa CEO Forum
More than 30 Africa utility CEO's took part in the forum. The CEOs held workshops and discussions aimed at strengthening the African energy sector.
Next-gen utility leaders
A team of students from Strathmore University in Nairobi, Kenya walked off as winners for an innovative concept to provide equitable energy access to remote villages based on "Uber (ising) solar energy."
The team's concept included putting a solar panelled container in rural villages that will also house a clinic and a knowledge hub like a school for vocational training to teach people about the use and benefits of solar energy. It will also include a shop where villagers can buy daily essentials like milk.
"The school will help with capacity building as villagers will see and learn benefits of electricity and as the business grows, they will want to have electricity in their homes and when that point comes, we will have solar powered tricycles."
Student teams from, the University of Cape Town, the University of the Witwaterand and Stellenbosch University also took part in the three-day inaugural edition of the Initiate! Impact Challenge.
African power, energy and water industry awards
Notable achievements in the African power and energy industry were celebrated during the gala dinner/award ceremony.
Wondimu Tekle Sigo, Ethiopia's former state minister in the Ministry of Water, Irrigation, and Energy. He has been acknowledged for the design and construction of various infrastructure projects, such as the expansion of a rural electrification programme for more than 6000 towns and tackling water shortages by increasing the water supply of the city around the Dire water reservoir dam from 240,000 cu/m to 400 000 cu/m per day.