African Power, Energy & Water Industry Awards were announced honouring the leading utilities, projects and people in the energy and water industries in the continent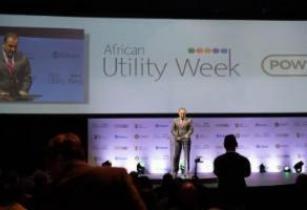 African Utility Week was held from 14-16 May 2019 in Cape Town, South Africa. (Image source: African Utility Week)
Their achievements during 2018/2019 formed part of the African Utility Week and POWERGEN Africa conference and exhibition in Cape Town.
The winners and finalists in the respective categories for the African Power, Energy & Water Industry Awards 2019 are:
Winner Lifetime Achievement Award: Wondimu Tekle Sigo, former state minister at the Ministry of Water, Irrigation and Energy, Ethiopia
Sigo was involved in many interesting projects in both water and energy. "Especially the 6000MW hydropower Grand Ethiopian Renaissance Dam, which is under construction, on the Blue Nile. This project has already reached almost 60 per cent. So this will help Ethiopia as well as the neighbouring countries through integration. This was one of the big projects that I was leading when I was at the ministry."
Amongst his many achievements, Sigo upgraded eight cities' electric distribution systems including that of Addis Ababa. ESI Africa included Sigo in their 60 most influential figures in the power sector from East and West Africa. Now as a PhD candidate for Economics at the Peking University in China, Sigo has been conducting research since 2017 around achieving Ethiopia's economic growth and development.
Winner of Outstanding Contribution Award: Power: Jasandra Nyker, CEO, BioTherm Energy, South Africa
Nyker led the business to grow from four megawatts in PPAs to more than 450MW of secured PPAs. BioTherm has expanded its development activities to build a pan African business by winning projects in Zambia, Burkina Faso, Cote D'Iviore and Ghana, and has also won large scale projects with some of the leading global mining companies.
Winner of Outstanding Contribution Award: Water: Andras Szöllösi-Nagy, president of the Governing Board of the Sustainable, Development Studies Institute National University of Public Service, Hungary
Andras was instrumental in implementing the establishment of several UNESCO Water Centers across Africa. These centers play a pivotal role in advancing sustainable water management in Africa as well as contributing to capacity development and training activities. They also play a pivotal role in implementing IHP. There are six African UNESCO water centres established to date, including the Regional Center for Training and Water Studies of Arid and Semi-Arid Zones (RCTWS) in Egypt.
Winner of Outstanding Contribution Award: Young Leader: Astria Fataki, founder and president, Energy Generation
Astria Fataki, who is originally from Togo, is an entrepreneur passionate about project development in Africa. At a macro level, she coordinated, from 2013 to 2015, the contractual and legal construction of two public-private partnership projects for the construction and operation of photovoltaic solar power plants in Mali (40MW) and Chad (60MW). At the micro level, in 2016, she founded the pan-African organisation Energy Generation, with the objective to develop young Africans' entrepreneurial initiatives in the energy sector.
Winner of Power Service Provider of the Year: Ghana Grid Company Ltd, Ghana
GRIDCo operates the Ghana Wholesale Electricity Market and provides electricity transmission services and in Ghana and West African. Since its inception, GRIDCo has continuously ensured a reliable supply of affordable electricity to households by continuously upgrading and extending the grid and the introduction of modern systems in compliance with IEC 61850.
Winner of Water Service Provider of the Year: Lilongwe Water Board, Malawi
The company's Corporate Planning Manager, Gustav Sikasima, responded as follows after the announcement. "This award means a lot; it means we have been making strides towards the social impact of the people of Lilongwe City and the efforts we have been making to make sure that the City has potable water."
Winner of Grid-Tied Renewable Energy Project (10MW+): Kathu Solar Thermal Power Plant, South Africa
Kathu Solar Park is a 100MW concentrated solar power (CSP) project located in the Northern Cape Province of South Africa. Construction on the project commenced in May 2016. The solar power park achieved commercial operation in January 2019 and has an operational life of 30 years. Kathu solar project is part of South Africa's Integrated Resource Program (IRP) 2010, which aims to increase the country's power generation capacity to 86.8 GW by 2030.
Winner of Small-Scale Sustainable Energy Project (under 5MW): Rubagabaga Hydropower Limited, Rwanda
Rubagabaga Hydropower Project is a 445kW grid-connected, a run-of-the-river project located in the Northern Province of Rwanda. It has made a very large impact on the local and regional communities by bringing renewable energy, jobs, and improved livelihood to thousands of households. The project is the first hydropower project to implement a containerised turbine and generator in East Africa.