Masdar, the Abu Dhabi-based renewable energy company, has launched a US$32mn, utility-scale, 15MW solar photovoltaic (PV) power plant in Mauritania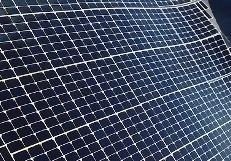 With energy demand increasing by 12 per cent annually in Mauritania, the addition of solar power will help meet future electricity shortfalls. (Image source: steevithak/Flickr)
The Sheikh Zayed Solar Power Plant, which will become the largest solar PV plant in Africa upon completion, will be located in the capital city of Nouakchott. The new facility will account for 10 per cent of Mauritania's energy capacity.
Mauritania's electricity grid, powered mostly by diesel generators, currently has an installed capacity of only 144MW, resulting in severe energy shortages. With energy demand increasing by 12 per cent annually, the addition of solar power will help meet future electricity shortfalls and supply the energy demand of approximately 10,000 homes.
Mauritania President Mohamed Ould Abdel Aziz said during the inauguration of the solar plant, "Energy access is a pathway to economic and social opportunity. Electrification, through sustainable sources of energy, is critical in ensuring that people have access to basic services. We are pleased to have partnered with Masdar to successfully deliver Africa's largest solar PV plant.
"This new solar power plant will not only provide the much-needed grid capacity for our people, it will also prove that renewable energy can play a major role in the development of our country."
Masdar CEO Sultan Ahmed Al Jaber said, "For more than 40 years, the UAE has remained steadfast in its commitment to helping developing countries achieve their economic potential.
"Today, as the UAE and Masdar help countries realise their ambitions of developing critical energy infrastructure, we are finding ways to assist the global community in achieving sustainable development."
Green Solar and Intratrek to launch solar power project in Zimbabwe
Zimbabwe Power Company to build US$100 million solar plant
Shams 1 inaugurated in Abu Dhabi