South African freight rail company, Transnet Freight Rail, will buy 95 electric locomotives from China South Rail (CSR) Zhouzhou Electric Locomotive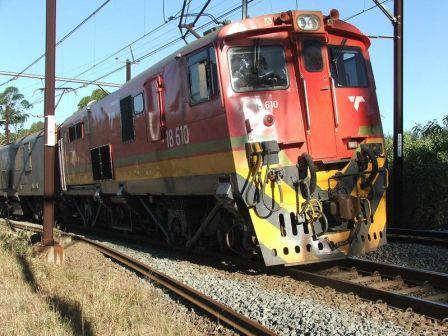 A Transnet freight train. (Image source: Wikicommons)
A consortium led by CSR Zhuzhou Electric Locomotive was recently named the winning bidder for the Transnet US$300mn contract. According to a Transnet source, CSR will own 70 per cent of the winning joint venture consortium, to be known as CSR E-loco Supply, with local partner Matsetse Basadi owning the remaining part.
The first 10 locomotives will be assembled in CSR's factories in China, while the remaining will be made in South Africa. Transnet said that the acquisition of the new hauling capacity would be part of Transnet's market demand strategy, which was one of the central pillars of the government's plans to lift economic activity and job creation through infrastructure investment.
South African public enterprises minister Malusi Gigaba said the agreement to buy 95 dual-electric locomotives for Transnet's general freight business was a demonstration of the government's commitment to embrace South Africa's entry into the BRICS — Brazil, Russia, India, China and South Africa — economic bloc.
The Chinese rail company president, Xu Zongxiang, said a letter of intent was also signed between CSR and Transnet Rail Engineering, the train-building unit of the freight and logistics group, to ensure that once the contract was completed the technology was transferred to Transnet.
Winning the contract was an important stepping stone for China into South Africa and Africa, he added.