As part of efforts to provide technical consulting services in par with international best practices and to ensure it maintains a consistent level of high-quality service, Allott (Nigeria) Limited has, in 2013, had its quality assurance procedures audited and has achieved ISO 9001:2008 certification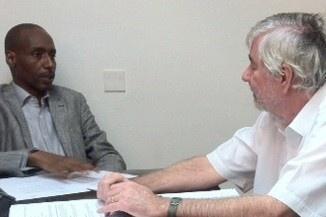 Allott's Attahiru Usman (left) with Peter Davidson (right) of Peter Davidson Consultancy UK. (Image source: Allott)
From its incorporation in Nigeria in 1975 as Allott & Lomax (Nigeria) Limited, a regional office of UK Consulting Engineers Allot & Lomax, Allott (Nigeria) Limited has become independent and grown into a major technical consulting practice, that provides engineering and environmental services to both the public and private sectors in Nigeria.
In more than 37 years of continuing presence in Nigeria, Allott has executed more than 350 projects, including multi-disciplinary technical consulting projects of various sizes and complexities, as well as the structural design and supervision of Challeram office tower in Lagos.
Among the companies Allott has provided services are Dangote Group, Ibeto Industries, Lafarge Nigeria, Grimaldi, Notore Chemical Industries and the Nigerian Gas Company, as well as government ministries and several World Bank-funded projects.
It has undertaken the survey and design of 400km of rural feeder roads in Kaduna in northern Nigeria and has designed and supervised the jetty and navigational channel in Onne in the Niger Delta.
Allott's projects have also included the design of the 235km River Benue Navigational Channel and the Environmental Impact Assessment of the East-West Road.
In order to provide clients with the best services, Allott has associated with several international consultants, a relationship that had contributed to the improvement of capacity.
Allott managing director Attahiru Usman, a University of Wales-educated and British Safety Council-trained environmental specialist, said he hoped to lead his team in building a strong pan-African technical consulting company that would harness the abundant skills and competence available across the continent.