The third drupa Global Trends report 2016 has highlighted that in order for printers and suppliers to succeed in the current market they must outline a positive strategy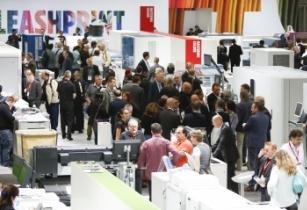 Drupa 2016 is taking place in Dusseldorf, Germany. (Image source: Messe Düsseldorf/ctillman)
The report found that printers and suppliers expect to maintain strong investment levels in 2016 despite a difficult economic market.
A total of 37 per cent of the global panel of printers in the report described their current condition in 2015 as 'good', while 12 per cent said their condition was 'poor' – measuring a positive net balance of 25 per cent. Printers in general predict a positive long-term outlook, with 50 per cent expecting their economic condition to improve in 2016 compared with only six per cent expecting it to get worse with a reported positive net balance of 44 per cent.
Turning to suppliers, overall the outlook was promising, with a positive net balance of 49 per cent. However, a breakdown of regions showed that current performance was marked down for the Middle East and across other regions. Prospects for 2016, on the other hand, were more positive.
In terms of investment in print technology, digital cutsheet colour is the most popular choice for three of the markets – 45 per cent in the commercial sector, 38 per cent in publishing and 48 per cent functional.
Supplier expenditure on marketing is also expected to grow next year with a recorded positive net balance of 33 per cent.
The report also noted that the key change for the commercial and publishing markets is the use of digital communications. Printing companies said the key challenges they have had to overcome are the lack of sales and being faced with stiff competition. The report stated that there was a general consensus among printing firms that it was challenging to find new customers and good sales staff and there was a lack of demand for conventional print.